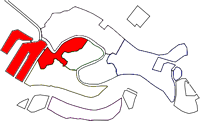 This sestiere owes its name to the Sacred Cross Church, an important religious site destroyed under Napoleon. Just as in San Polo, this sestiere was historically part of the zone called Luprio, the site of the salt mines.
It occupies the northwest part of the main islands, and can be divided into two areas: the eastern area being largely mediaeval, and the western - including the main port and Tronchetto - mostly lying on land reclaimed in the 10
th
century.
During the twentieth century, this sestiere incurred the greatest changes due to the various connections between Venice and the mainland. First, with the construction of the Maritime Station, and then with creation of the area around Piazzale Roma, the opening of Rio Novo and the construction of the artificial island parking lot at Tronchetto. All these changes in the road system were a direct result of the construction of the Liberty Bridge in 1933, transforming the northern part of this sestiere into an automobile and bus terminal to Venice. This is the only sestiere in which a small area exists where you can drive a car, albeit in a limited fashion.
The tourist attractions lie mostly in the eastern part of the quarter, including the Church of San Nicolo da Tolentino, the Fondaco dei Turchi, the Church of San Giacomo dell'Orio, the Centre for the History of Fabrics and Costume, the Patrician Palace and Ca' Corner della Regina.
Here is the list of the most important monuments, churches, museums and palaces of the sestiere of Santa Croce
- Chiesa di San Nicolò da Tolentino
- Chiesa di San Giacomo dell'Orio