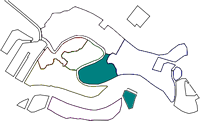 St. Mark
is one of the six sestieri of Venice, lying in the heart of the city. S. Mark also includes the island of San Giorgio Maggiore. Although the district includes St. Mark's Square, this was administratively independent from the sestiere.
The St. Mark sestiere, originally called Rivoalto, from which comes the name Rialto, is the original nucleus of the city. In its first centuries of life, in fact, the city of Venice was named Civitas Rivoalti, in reference to the islands on which it is founded. The heart of this sestiere is St. Mark's Square, which for almost a thousand years was the political and judiciary centre of the Venetian Republic.
The square was developed on an area occupied first by ancient gardens (Brolo) cared for by the nuns of the nearby Convent of St. Zacchary, and around the two churches that were originally present in this area, the Church of St. Theodore (San Teodoro, the first patron saint of Venice), which was demolished to construct in its place St. Mark's Basilica, and the first Church of San Geminiano, originally located approximately halfway up the current square, in front of the Basilica. When the square was enlarged, the Church of San Geminiano was then rebuilt where the Napoleonic wing now stands, and where the Correr Museum is located. The church was demolished by order of Napoleon in 1807 to be replaced by the museum.
In the year 828, the fishermen, Buono from the island of Malamocco and Rustego from the island of Torcello, stole the body of St. Mark the Evangelist from Alexander of Egypt and brought it to Venice, where it remains to this day in the Basilica. From that day, St. Mark became the patron saint of Venice and gave rise to the name of its most famous square. The statues of St. Mark and St. Theodore on the columns of St. Mark are a reminder to the city of both of these patron saints.
This small district includes many of Venice's most famous sights, including St Mark's Square, Saint Mark's Basilica, the Doge's Palace, Harry's Bar, the Palazzo Dandolo, the La Fenice Theatre, the Palazzo Grassi and the churches of Santa Maria del Giglio, San Maurizio, San Moisè, Santo Stefano, San Salvador and San Zulian.
Here is the list of the most important monuments, churches, museums and palaces of the sestiere of St. Mark
Museo Correr
- Chiesa di Santa Maria del Giglio
- Chiesa di Santo Stefano
- Palazzo Contarini del Bovolo
Palazzo Grassi