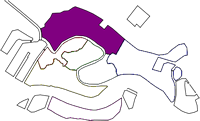 Cannaregio
is the northernmost of the six historic sestieri (districts) of Venice. It is the second largest sestiere by land area and the largest by population.
The Cannaregio Canal, which was the main route into the city until construction of the railway link to the mainland, gave the district its name. Development began in the eleventh century as the area was drained and parallel canals were dredged. Although elegant palazzos were built facing the Grand Canal, the area grew primarily with working class housing and manufacturing. Beginning in 1516, Jews were restricted to living in the Venetian Ghetto, enclosed by guarded gates and from which no one was allowed to leave from sunset to dawn. Nevertheless, Jews in Venice held successful positions such as merchants, physicians, money-lenders and other trades. Restrictions on daily Jewish life continued for more than 270 years, until Napoleon Bonaparte conquered the Venetian Republic in 1797. He removed the gates and gave all residents the freedom to live where they chose.
In the 19th century, civil engineers built a street named Strada Nuova through Cannaregio, and a railway bridge and road bridge were constructed to connect Venice directly to Mestre on the mainland. Today, the areas of the district along the Grand Canal from the train station to the Rialto Bridge are packed with tourists, but the rest of Cannaregio is residential and relatively peaceful, with morning markets, neighbourhood shops and small cafés.
Here is the list of the most important monuments, churches, museums and palaces of the sestiere of Cannaregio
- Chiesa di Santa Maria di Nazareth
- Chiesa della Madonna dell'Orto
- Chiesa dei Santi Apostoli
- Chiesa di San Giovanni Grisostomo
- Chiesa di Santa Maria Assunta (Gesuiti)